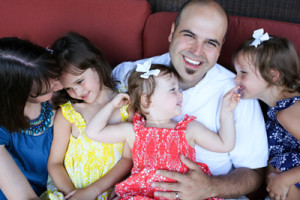 BRIAN A. KLEMS is a writer, speaker, freelance editor, husband, softball player, perennial fantasy sports underachiever, Huffington Post contributor, N64 Golden Eye Champion, Saved by the Bell enthusiast and father of three lovely little girls (who, thankfully, look like their mother). He's a proud graduate of the journalism school at Ohio University. He's also the online editor of Writer's Digest magazine.
Brian is the author of the Amazon bestselling parenting humor book, OH BOY, YOU'RE HAVING A GIRL: A Dad's Survival Guide to Raising Daughters
(Adams Media). Often used as a popular gift book for new parents and a prop at reveal parties and pregnancy announcements, OH BOY was called a "Laugh-out-loud book" by the Chicago Tribune and was endorsed by humor writing legend Dave Barry.
When he isn't explaining the differences between "who" and "whom" on his Writer's Digest Blog or mowing his lawn (two weeks later than he should have), he's likely playing "Ring Around the Rosy" with his daughters—or writing about it on this parenting blog.
If you'd like to cut his grass, want to chat or inquire about his editing services, feel free to e-mail him by clicking here or follow him on Twitter @BrianKlems.
NOTE: I also made the singer P!nk teary-eyed (in a good way) with my writing. I consider this quite an awesome accomplishment, like raising smart kids and learning how to make bacon-wrapped tater tots (they are delicious, by the way).
"@HuffPostParents: Stop what you're doing and read: The letter every parent should write http://t.co/aIvFwnuxDT" needed a good cry, thanks

— P!nk (@Pink) June 13, 2013
(Top photo by Loft3 photo&design)
On Social Media: